To celebrate the launch of Laois TASTE a diverse group of Laois based Food & Drink Producers dedicated to promoting the Laois Food & Drink Sector through the Laois TASTE brand locally, nationally and internationally. Laois County Council's Business Support Unit in collaboration with the Local Enterprise Office and Laois Partnership has commissioned a new video to highlight the unique offering of the Laois Food sector.
The video was funded by the Department of Agriculture, Food and the Marine's (DAFM) Rural Innovation and Development Fund (RIDF) with match funding provided by Laois County Council. This year's RIDF focused on Agri-food Tourism measures which would help to develop and support a wide range of local, regional or speciality cuisines. With the support of DAFM Laois County Council has been able to work with local Food and Drink Producers to develop a new Laois TASTE brand as a mark of quality and local provenance. The new brand will also be supported by a provenance scheme in January 2020 to ensure the continued promotion of the brand and develop a network of supportive suppliers and distributors locally and nationwide.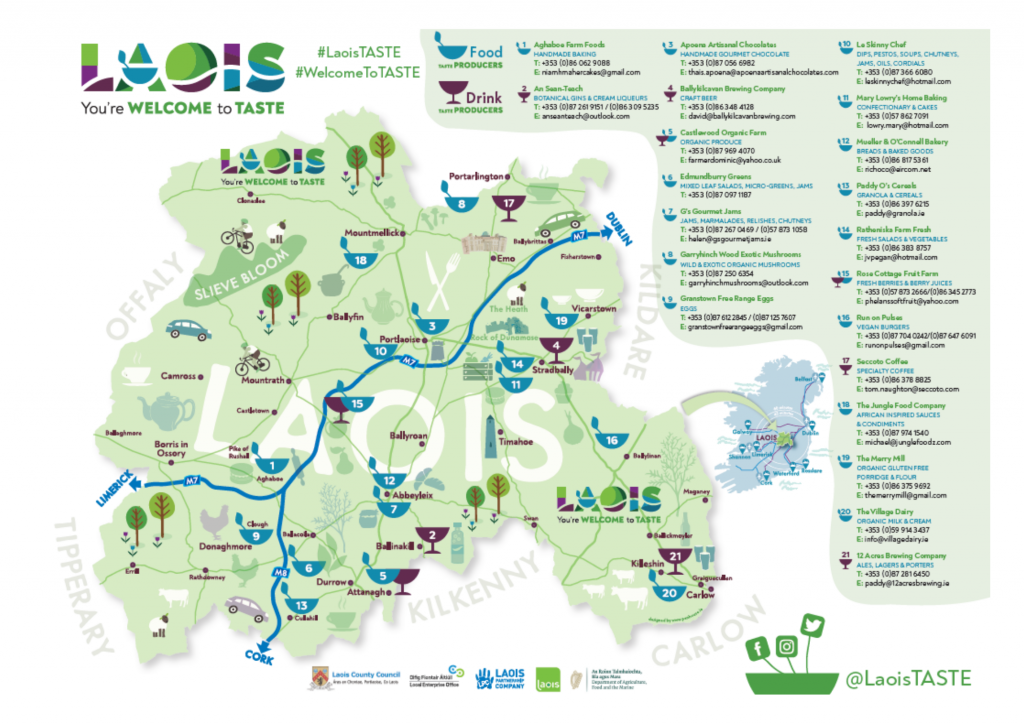 To support the Laois TASTE provenance scheme ambitious food and drink group has also developed a range of supporting materials including a Laois TASTE Producer Directory and Map.
If you have a food or drinks business in Laois and would like to join Laois TASTE, you can apply online at localenterprise.ie/laois in January 2020.
Why not follow us on twitter @connect2laois to stay up to date with the latest news on Economic Development and Business Incentive Schemes in Laois.
Want to learn more about the Business Incentive Schemes we have to offer click here for more information.