Laois County Council has extended the popular Business Incentive Scheme to Durrow, with a designated area within the town now eligible to apply for the scheme.
Last year the Business Support Unit distributed €127,529 in grant funding to businesses across the County through the Business Incentive Scheme and Early Payment Incentive Scheme. A further €9,573 was also distributed to businesses through the Shop Front Improvement and Accessibility scheme.
The Business Incentive Scheme encourages the use of vacant commercial units in designated areas to assist new businesses to set up in the traditional retailing, commercial and social heart of the town. The scheme offers eligible businesses a rates reduction of 75% of rates in Year 1, 50% in Year 2 & 25% in Year 3 (on premises which have been vacant for six months or more).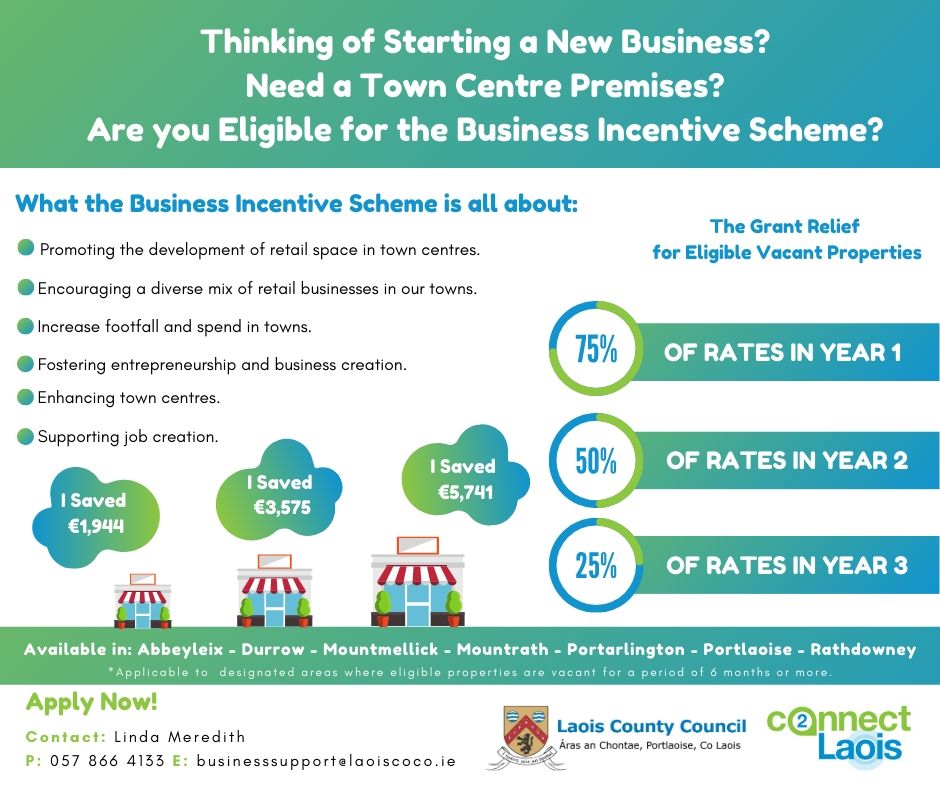 The purpose of the scheme is to provide a grant incentive for new businesses to locate in premises that have been vacant for a period exceeding six months and to encourage diversity of retail opportunities within a designated area.
This grant can provide the financial assistance that makes it attractive for new business to consider setting up in areas where there are a number of vacant shop units.
Further information on the Business Incentive Scheme is available: here
Further information on the Shop Front Improvement Grant Scheme is available: here
Why not follow us on twitter @connect2laois to stay up to date with the latest news on Economic Development and Business Incentive Schemes in Laois.
Want to learn more about the Business Incentive Schemes we have to offer click here for more information.